The Breakfast Club - White Glaze
£

104.00 Sold Out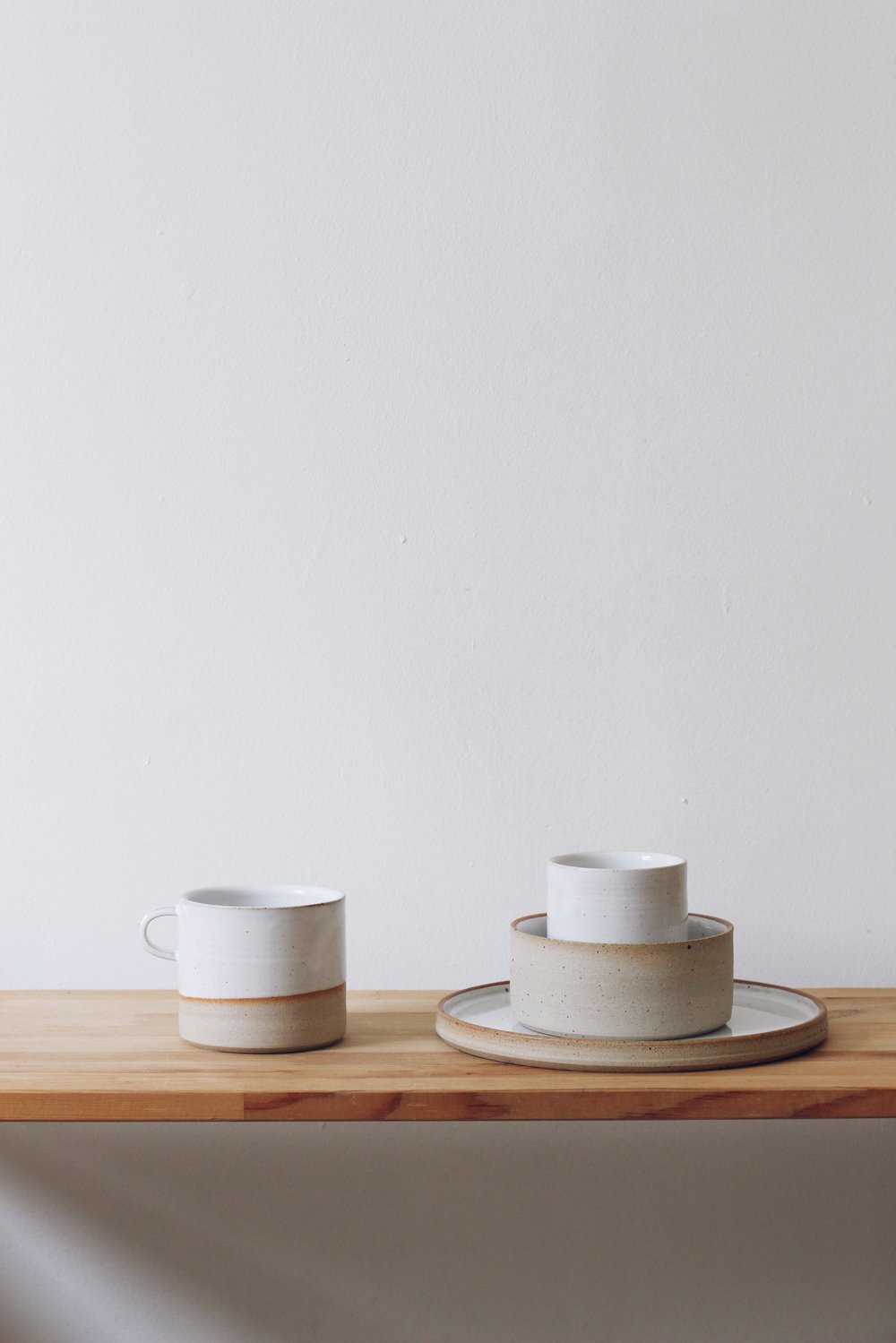 The 3 options for this year's edition are:
Black Clay
White Glaze
Transparent Glaze
Available on Sunday April 26th at 11 am.
Hand-thrown on the wheel using a clay resembling a sandy beach, some pieces will seldom show flecks of red iron bursting through the glaze, giving the pieces a playful tone. Finished with a thick layer of gloss white glaze creating a toast mark wherever the glaze meets the clay. If you rather have your set completely plain with no flecks of red iron at all, that is also an option, just select from the drop down menu.
-
INFO
Once more I'm joining forces with Grace McCarthy, bringing together the best of our skills to create a set you will hopefully enjoy for years to come.
In a nutshell this is how it works: each month you'll receive 4 hand-thrown pieces at your doorstep paying a monthly fee of £104 x 4 months. By the end of these 4 months you will have a 16 piece table set paid through 4 friendly payments at a well discounted price.
I consider it's important to take the time to enjoy small details from everyday life, breakfast is one of those moments that people tend to skip or rush, maybe this doesn't apply to some people now who were affected by the pandemic, and if you are one of them, you are probably now easing around the house, enjoying all those little details more now than ever. In either case, I hope this set encourages you to take it slow and share conversations and moments with the ones you love. Another lovely reason to be excited about inviting friends home once restrictions are lifted!
This scheme allows me to know the exact number of pieces I'll be working on each month, making a much more clean and efficient production at the studio enabling me to lower the final price.
The entire table set consists of 16 pieces:
4 cups arriving end of May.
4 bowls arriving end of June.
4 tumblers arriving end of July.
4 flat plates arriving end of August.
You pay £104 each month during a 4 months period.
First box will arrive end of May. You'll get an invoice from me each time I ship a new box to complete your next payment.
Only 6 memberships will be available.
Approx dimensions:
Cup Ø 9 x 7.5 cm
Bowl Ø 11.5 x 5 cm
Tumbler Ø 8 x 9 cm
Plate Ø 21 x 1.5 cm

- The Breakfast Club Membership works on a friendly scheme of 4 monthly payments of £104 (£416 total).
- Free UK shipping.
- Dishwasher safe, although hand wash is recommended.
- Only available for UK shipping.
Take part in the revival of traditional crafts in this system of mass consumption and mass disposal. Support people in your community making stuff. Say no to machines or exploited workers.
Share